5 minutes with Ashley Sharp of Thrift Studio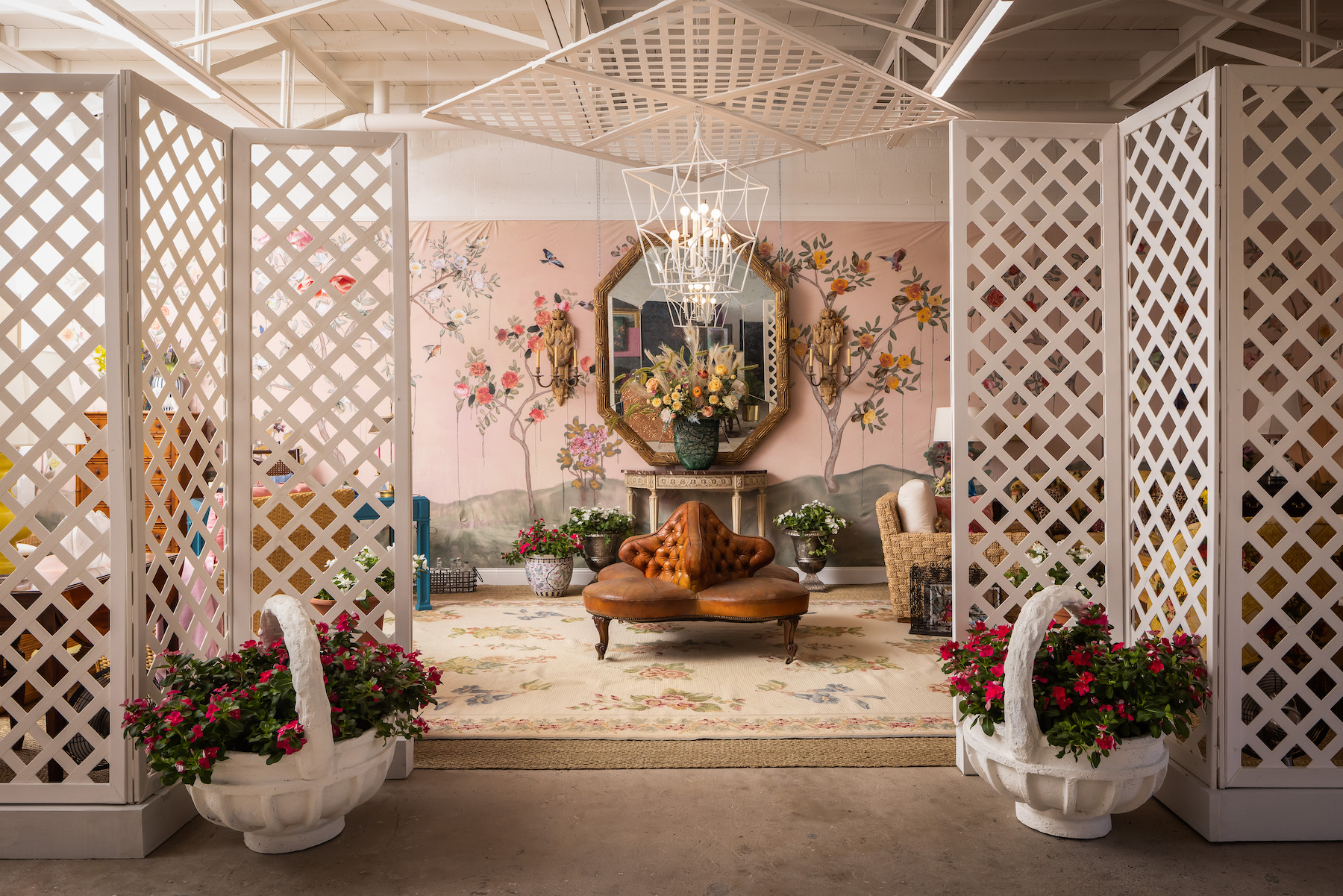 For more than a decade, Live with dignity sold luxury furniture and home accessories at deeply discounted prices at Savings workshop, his month-long pop-up shop. The popular event is attracting a lot of love from the city's interior design world and anyone looking for a bargain. Each year, Thrift Studio chooses a handful of local designers and showrooms, like Peacock Alley and Javier Burkle, to stage room "vignettes" with the donated furniture. (See the full list of creators here.) Think Rooms To Go, but much, much better.
When I walked into Thrift Studio's preview party last week, I was struck by the crisp air and buzzing din of excited shoppers, plus a DJ in his pajamas pumping out music at the top. of a bunk bed in a nursery vignette. It was packed. I skimmed through the thumbnails, ogling the gorgeous wallpapers, headboards, and club chairs. I was wondering if I should throw in my own Rooms To Go side tables for something here – the deals were, indeed, excellent. But pretty much every time I approached a table, bookcase, or backgammon board, I saw a big, bright "sold" tag.
All of Thrift Studio's money goes directly to Dwell with Dignity, which provides carefully designed living spaces for families in need. "For us, that's the end goal," says Ashley Sharp, executive director of Dwell with Dignity. "That we can provide unique items to people on demand and know that every dollar you have is going back to serving a family in need."
At the party, I chatted with Sharp about how Thrift Studio works, the best deals, and the new Social Impact Marketplace, where local nonprofits can pop into the pop-up store on Saturdays and sell their wares.
This party is crazy. Can you tell me about the community reaction to this year's Thrift Studio?
I think Thrift Studio is needed more than ever, right? We talk about supply chain issues and how everything is backed up and you can't get anything. But what if you could come to a place and get a unique item right away, knowing it's coming back for social good?
How many people typically buy Thrift Studio?
The opening day alone is around 500 people. And then any day, we can have up to 100 people and we shoot for a month. You'll see a lot of repeat buyers because they know these deals are coming to fruition. And so, we can really see between 1,000 and 3,000 unique buyers, and our goal is to continue to grow it and introduce people to that mission.
So how do thumbnails work? When a part is sold, is it replaced?
So, designers can host a "shop in the warehouse" event. The first thing they do is come to our warehouse and start shopping. It's like Supermarket sweep, where we literally line them up saying "1,2,3, Go!" And they run and they can pick up items from our warehouse. But then they're also going to source items from their own customers, people they partner with. And then what's great is that they take all of that and put it together, we sell the decals, and then we probably have 6 or 7,000 square feet of refreshed stock ready to go. Every Tuesday we will restock with more donated items.
What do you think is the best pop-up offer this year?
Art is the best business here. We have had [around] 70 artists donate works of art, one-of-a-kind pieces they created and made just for us. And some of these works of art would resell for $3,000 or $4,000, and you can get them for a few hundred dollars. So the art is amazing. Everything is unique, made with love, just for Dwell with Dignity. In fact, I just bought a piece of work myself.
Tell me about the Social Impact Marketplace.
We're launching our very first Social Impact Marketplace, which I've been dreaming about. We have invited various partners to come and sell for free. We provide the space, we provide everything they need, they don't have to discount us. They simply benefit from promotion in the press and space to meet clients. And so, we are delighted. We have jewelry companies, we have soap companies, all of which benefit different organizations. You can come sell and meet new people.
How did you choose the associations?
These are nonprofits that were also part of the social innovation accelerator – so that's great – and other nonprofits that we partner with. We have La Digne Co. who makes jewelry in Fort Worth. And they run The Net and work with victims of sex trafficking. We really like working with them. My possibilities was one of my mentors and I've worked with them forever. And so we are delighted because they have Hope Soap and it is for people with disabilities. So they can come and sell soap. hello homemade is the same—it's people with Down syndrome. They are going to come and serve ice cream, which is the best ice cream on Earth. We wanted to pick people who matched our goals and values, and then also those we knew were already in the community and wanted to get a bigger presence.
What is your ultimate goal for Thrift Studio?
My goal for our studio is to have a permanent space where we have monthly weekend pop-ups and then we do an eight-week run. I think that would be my dream. Right now we're only doing four weeks, and as soon as people hear about it, we're closed. So we're kind of like the State Fair right now. But if we can get a permanent space, and then we could do warehouse sales, [because] we are still sitting on the inventory, we are able to make the name known. And then blowout once a year or so.
10 a.m. to 5 p.m. Tuesday to Saturday, until September 24. 1506 Market Center Blvd. www.thriftstudio.com
Author
Catherine Wendlandt
See profile


Catherine Wendlandt is an associate online editor for Magazine D's Living and Home and Garden blogs, where she covers all…