7 minimalist jewelry brands from the Philippines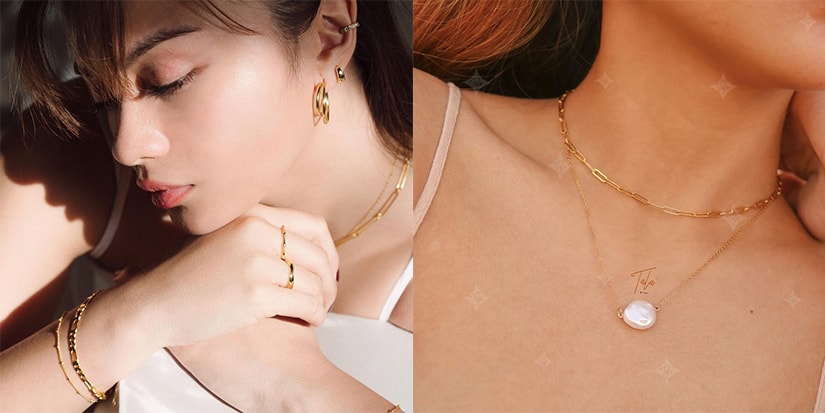 Accessorizing with jewelry, whether it's a pair of minimalist earrings, a dainty necklace, a charm bracelet, or layered rings, can immediately elevate your look. Below we have compiled a list of the best jewelry brands from the Philippines specializing in simple yet elegant handmade pieces.
Our selection includes cult brand Tala by Kyla, known for their themed collections and contemporary styles perfect for everyday wear. Founded by Cath Sobrevega and Ina Tirthdas, Namì works with Filipino artisans to create timeless designs in sterling silver. Another of our favorites, Penny Pairs pride themselves on their durable, semi-fine jewelry made from recycled 925 silver and 18k gold.
Read on to learn more about our seven favorite jewelry brands based in the Philippines.
Founded in 2019, Anzá specializes in 14k and 18k solid gold jewelry handcrafted by skilled local artisans. The brand is known for its Alegria and Valentia necklaces, both versatile enough for any occasion. "We believe in the power of subtlety, and we believe that being truly daring is taking quiet steps," the brand said.
WHERE TO BUY: Instagram of Anza.
Founded by Kim and Tiffy Tiam-Lee, Love, Susie is the fine jewelry line of Pulseras, Lee's main brand. Inspired by her love for architecture and straight lines, Lee's minimalist necklaces, bracelets, earrings and rings are locally crafted from ethically sourced materials and are packaged in reusable drawstring pouches or boxes. recyclable crafts.
WHERE TO BUY: Love, Susie's online store.
Designed and handcrafted in Manila, Modern Myth produces its quality jewelry in small series to order. From barely-there styles to striking designs, this brand offers an endless list of options for you to choose from.
WHERE TO BUY: Modern Myth's online store.
Namì, an Ilonggo word which translates to "kind" in English, creates quality earrings, rings, bracelets, necklaces, anklets and toe rings made by local artisans in Libtong , Bulacan. The brand uses sterling silver as the main component in the manufacture of its jewelry, but it also offers a range of gold coins. "It's the same with most of the women in our lives: their jewelry tells a story. We want to make it accessible, "said founders Cath Sobrevega and Ina Tirthdas.
WHERE TO BUY: Namì's online store.
Founded in 2018, Penny Pairs is dedicated to giving its customers access to affordable, tarnish-free jewelry. The brand manufactures durable pieces from precious metals and crystals, as well as recycled 925 silver and 18k gold. Whether you are just going to the office or have an event to attend, the styles of Penny Pairs are guaranteed to give your outfit that extra oomph.
WHERE TO BUY: Penny Pairs online store.
Crafted from four main materials, namely gold vermeil, gold plated, pearls and cubic zirconia, Stage Chic's demi-fine collection includes earrings, necklaces, rings and bracelets. In addition to its gold and silver offerings, the brand recently expanded its catalog with delicate rose gold pieces.
WHERE TO BUY: The Stage Chic online store.
Tala by Kyla started as a one-woman team in 2018. Brand founder Kyla Cañete managed, packaged, advertised and delivered on her own before TBK became the success it is today. 'hui. Today, the 21-year-old CEO leads the marketing team, while her mother is in charge of internal operations. Besides his minimalist designs, Cañete produces thematic collections inspired by his interests like K-pop, anime and music. She also had the opportunity to collaborate with one of the popular groups from the Philippines, Ben & Ben, on a limited edition necklace.
WHERE TO BUY: Tala through Kyla or Shopee's online store.