Fine Concord Jewelry Design by Kristin Kennedy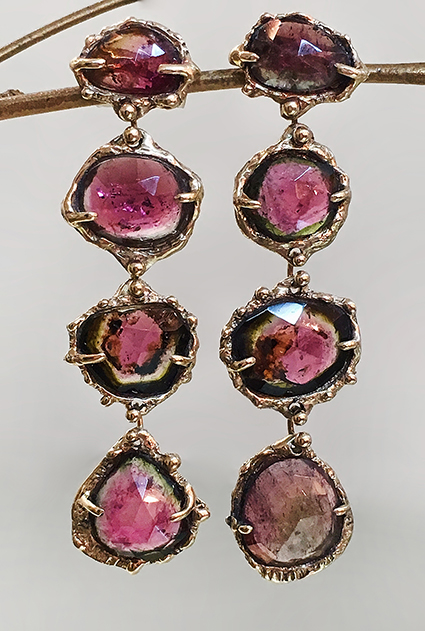 From simple stones to complex compositions

14 karat yellow gold and watermelon tourmaline chandelier earrings. Courtesy photo
AThe heart of every Kristin Kennedy piece is a naturally beautiful gemstone. After the stone – watermelon tourmaline, Tahitian pearl, or perhaps an alluring opal – is chosen, the gold setting is created around the character and shape of the gemstone. Kennedy begins by carving the shape in wax, then melting it in 16k yellow gold or 14k white gold. The sculpting process, without the need for hammers or saws, allows an organic form to flourish.
Kennedy, a native of the Southwest, studied jewelry design in Flagstaff, Arizona, at the Gemological Institute in Carlsbad, Calif., Then apprenticed to a silversmith in Sedona. In 2000, she moved to New Hampshire and was quickly accepted into the League of New Hampshire Craftsmen.
Four years ago, she opened a retail store and studio on Warren Street in Concord to display her lavish collections. The rings are set with large pearls, cut stones and even ancient gold coins. Large luminous opals are paired with diamonds and rubies and set in gold bezels which are further embellished with gold frames for pendants and earrings. Gold clove-shaped petals are layered with tiny diamonds for a touch of glow for statement necklaces. It is all the beauty of nature in the most beautiful metal of nature.
Shown here is Kennedy's popular watermelon tourmaline line. The natural colors of translucent pink and green vary in intensity and she is able to select the best specimens for her work, often sharing the selection process with clients for their custom designs.
The old-fashioned rose cut is Kennedy's favorite facet for gemstones. With fewer faces, the natural beauty of the stone and the eons of time that created it are not disturbed, but enhanced. Like his work, timelessness is captured and placed high on a pedestal.