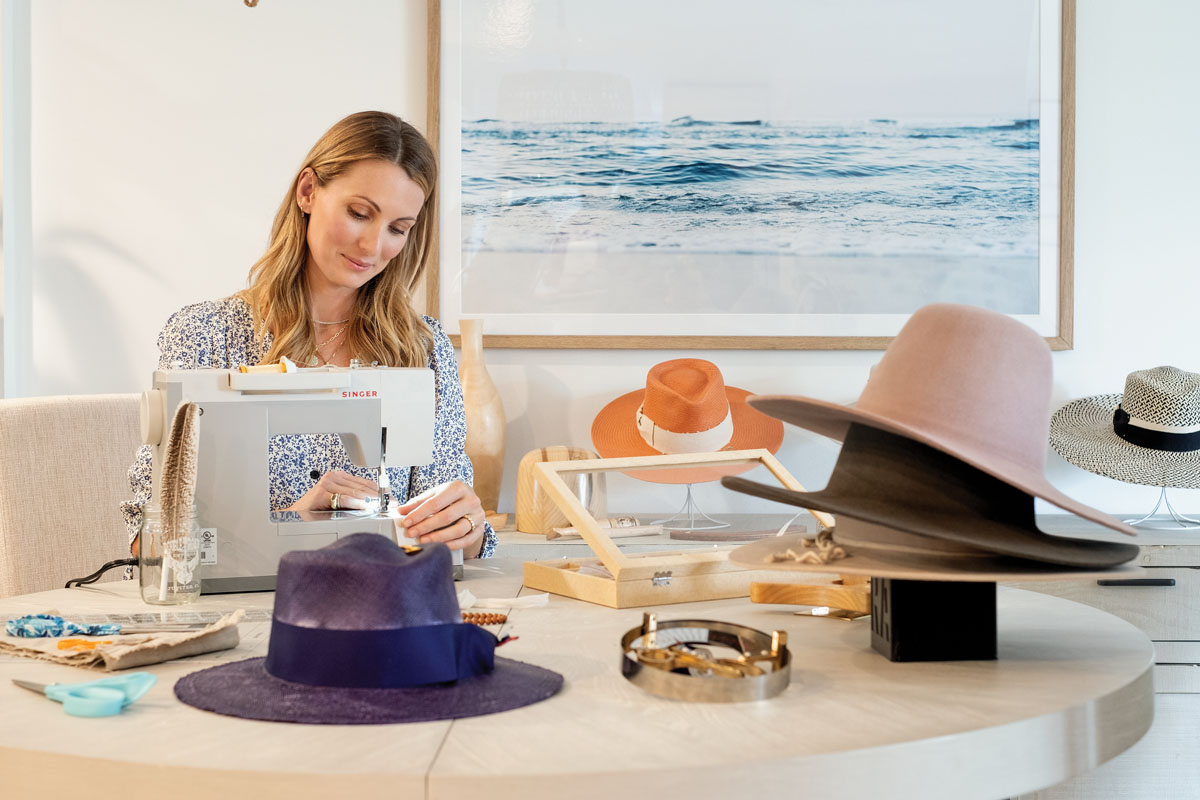 Kai Lassen, a native of Jupiter, has spent two decades of her life traveling the world as a professional model. She was on the move, doing shows in Milan, Paris, New York and Australia and flying to places like Spain, Alaska, Los Angeles, Germany and Montreal for editorial shoots. But now she has found a new calling that has led her to plant more permanent roots in her hometown.
Lassen took the knowledge she gained working in the fashion industry and funneled it into a successful bespoke hat business. Wool, fur felt and straw hats, panama style, are sold on her website and at Palm Harbor Boutique in Jupiter. She is also set to open a showbedroom/office at 900 East Indiantown Road, where she plans to host hat parties, bridal showers, private dates, and scheduled shopping dates. "For some reason, Florida became my niche," says Lassen, who owns a home in San Diego as well as a condo in Jupiter. "In California, there are there are many amazing hat makers, but there is nothing like this in Florida. It's good that the business is growing here first because I'm from here.
Relaxing in the condo by the ocean that Lassen and her husband, former NBA player Jud Buechler, occupy when in town, the two discuss their beach-centric lives and
Lassen's fledgling new business while their 12-year-old Silky Yorkie, Zuma, relaxes on the couch. Lassen looks gorgeous and effortlessly stylish in her vintage Levi's everyday uniform and casual top. Makeup, she says, is a rare occurrence, and she wants to keep it simple with great accessories, including jewelry, a good handbag and, of course, hats. "In San Diego it's Vans and jeans, and here it's flip flops and jeans," she says. "We're laid back people – a little tequila and the beach is all we need."
A born creative, Lassen learned to sew and paint as a child. Five years ago, she started thinking about fulfilling her dream of designing hats, but didn't know where to start. A pandemic-induced extra time convinced her to take the plunge. She learned the trade by watching tutorials on YouTube. "I learn visually, so it was easy for me to understand," she says.
She designed and made all of the hats herself, initially selling them through her online store on Etsy. She switched to her website when she saw how popular they were getting. Today, the company is doing well, as shown by the number of hats in various stages of production covering most of the flat surfaces of the condo. "It's actually pretty clean," observes Buechler. "Most of the time I have to be careful not to step on the hats."
Buechler is an investor in his wife's business and his number one fan. "Doing something new and putting it all together takes a lot of courage," he says. "The way she's handling it all makes me so happy and proud, even though I joke with her that it's changed our lives because she's no longer available for fun."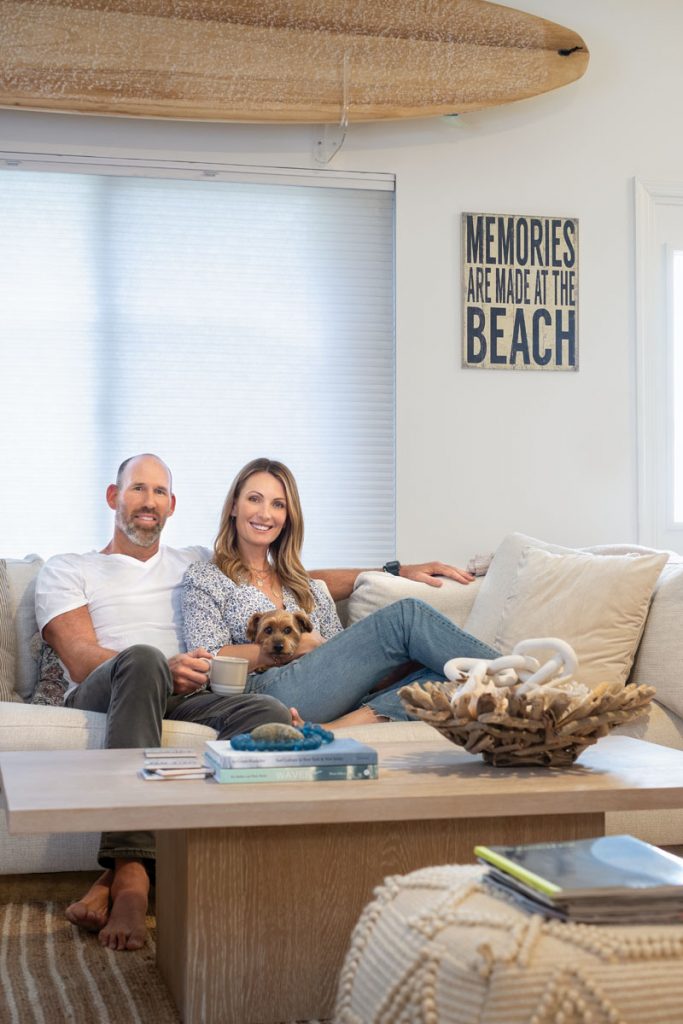 The biggest challenge for the couple is indeed time management, Lassen acknowledges, especially now that Buechler is retired and his business is taking off. "Work is now 24/7—
I have to learn how to turn it off," she says.
Since retiring from basketball in 2020, Buechler now has time to indulge his passions for surfing and volleyball (he was an all-American in high school) with his group of longtime buddies. A perfect day for him begins and ends on the beach. "I never want to be cold again," he jokes.
It's no wonder Buechler treasures downtime after a stellar but somewhat exhausting NBA career as a small forward that took him from his 1990 hometown of San Diego to New Jersey to play for the New Jersey Nets, then the San Antonio. Spurs,
the Golden State Warriors and the Chicago Bulls. He was with the Bulls during the years the team, including Michael Jordan, Scottie Pippen and Dennis Rodman – achieved their second hat-trick of the 1990s (the team's reign is the subject of a docuseries currently airing on Netflix, the last dance). He ended his playing career with stints at the Detroit Pistons, Phoenix Suns and Orlando Magic and, after taking some time off to coach his two teenage daughters in volleyball, returned to the NBA as an assistant coach of the Los Angeles Lakers and then the New York Knicks.
It was while Buechler was in Los Angeles coaching the Lakers that he met Lassen, who was living in Manhattan Beach at the time. Both divorced, neither was interested in a relationship, but when mutual friends wanted to set them up in the summer of 2017, they reluctantly agreed to meet at a restaurant before a Hall & Oates concert. For Buechler, the attraction was instantaneous. "I walked into the restaurant with a friend who pointed it out to me, and I was like 'Wow'," he recalls. "She was obviously tall and beautiful with a beautiful smile, and I was like, 'We're off to a good start.'"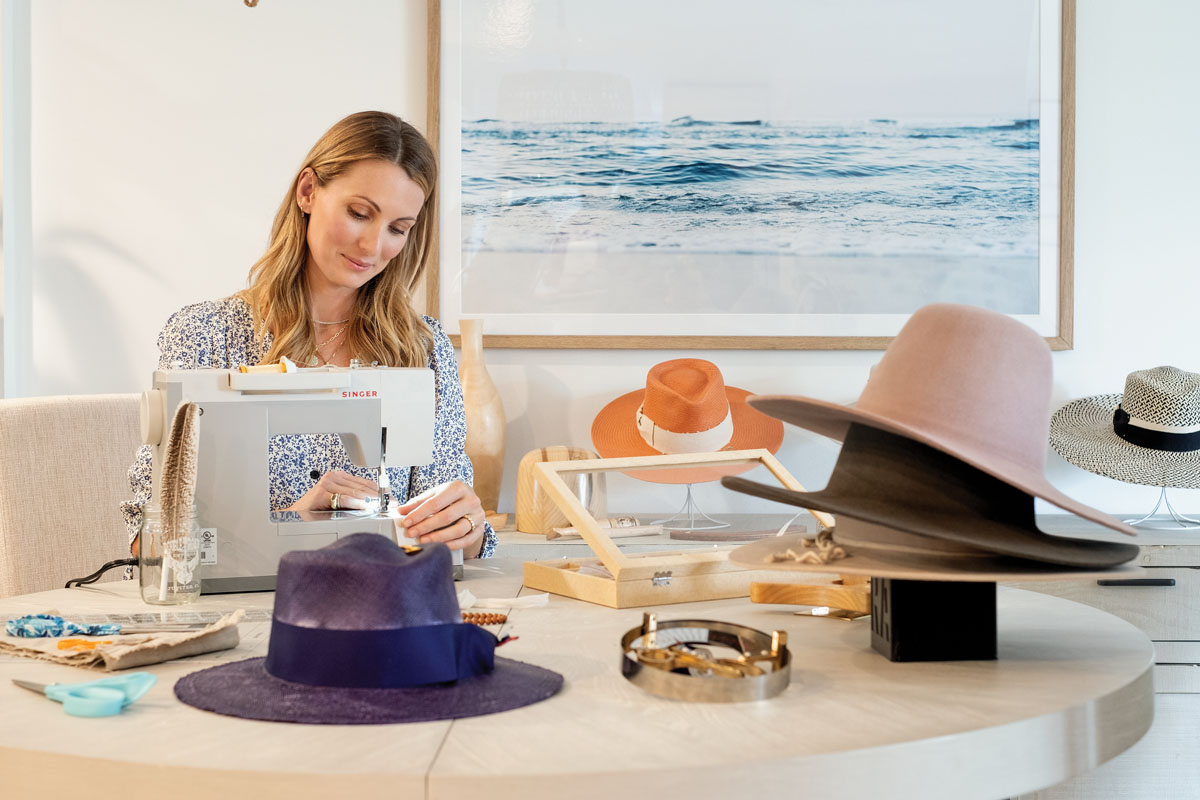 The attraction was mutual. Lassen says: "Before we met, I thought the worst case scenario would be that this guy stinks and I can go home. But there was just this sparkle, and it's so tall, even though I was wearing heels. They moved in together after
only a few months and since then they have been together.
The couple spends most of their time in Jupiter, San Diego and Baja, Mexico in search of surf and sand. Growing up in Jupiter, Lassen recalls a similar, idyllic sporting childhood on the water, when her mother, Kathy, could barely coax her and her brother indoors. She attended Jupiter High School, but when her modeling career took off during her teenage years, she transferred to the more flexible schedule at Jupiter Farms Community Christian School.
At 16, as her star rose in the modeling industry, she convinced her father, Bo, to co-sign a lease so she could get his own home in New York. These days she is represented by Brand Model and Talent, although she has largely strayed from the industry. "I will do a job if they ask for it," she said.
Making hats is what she feels she was meant to do, and she's loyal to the locals who have helped her along the way. A network of niche sellers and small businesswomen in Jupiter has supported her from the start, she says, and she pledges to pay for it by featuring some of them on her site and in the new venue. of exposure.
This same generosity of spirit extends to its relationships with customers. "I love that they really feel involved in the design if they want to," she says, picking up a hat from a table full of orders ready to ship. "This client, for example, wanted an ocean vibe," she says. "She chose these turquoise beads as a headband, and I sewed a golden wave on the side. For another woman, I embroidered flowers with her daughter's name.
The company's success fulfills Lassen's creative passion, not just for herself, but, she believes, for others as well. "I can bring other people's visions to life," she says, "and it's very rewarding. The organic approach she takes to her business can describe her general philosophy of life: "I don't set expectations. Instead, I like to see where things are going. I'm just enjoying the ride.