Local Man Changes Career During Pandemic to Focus on Jewelry Design | Local News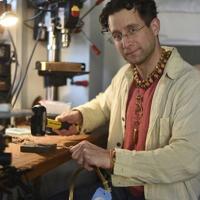 From Derek Mirabilio's perspective, he lost nothing when he was fired last year.
In fact, the former health administrator saw the abrupt end of one thing as an opportunity to focus on what he truly loved: making jewelry.
"By 'losing' my job, I changed it to see it as an opportunity," Mirabilio said as he sat in his home office, surrounded by hundreds of his creations. "I take control of the narrative."
The Gloucester-based designer's handcrafted jewelry with natural elements and individually hand-burnt accents aims to connect the homeowner with the outdoors.
"My designs are grounded in the philosophy that 'our thoughts create our reality' reads her artist statement. "Knowing what we wear influences our thoughts and outlook on ourselves, so as a designer , my goal is to use my gift to help others design a positive change in the way they see themselves."
His work and full artist statement can be viewed at www.mirabilio.com.
But what's now featured at major trade shows in New York City started out as a simple side gig that Mirabilio did when he could find the time.
Prior to the COVID-19 pandemic, Mirabilio, who holds a Masters in Business Administration with a concentration in Organizational Leadership, worked in health care administration for various home care agencies as well as in private practice.
He started his day at 3:45 a.m. to hit the gym, then left for work from 9 to 5 and finished by staying up until 11 p.m. designing jewelry.
"It was my Monday-Friday schedule," Mirabilio wrote in an essay for the American Craft Council. "The only change would be on sunny days – I'd sneak in on an after-work mountain bike ride before I got to my bench."
In 2012, while still working in healthcare administration, Mirabilio transitioned from drawing and painting to experimenting with traditional art.
It was there, Mirabilio says, that he found his answer for what his next step would be.
"Although the art looks beautiful hanging on the wall and has that aesthetic and a home, it stops there," he said. "It's not something you can carry around in your daily life."
Fixing himself on jewelry design, he began to play with material, precision and composition.
In the years that followed, Mirabilio would take its jewelry to festivals and fairs to gather consumer feedback.
When the world began to change in response to the ever terrifying coronavirus, Mirabilio lost his job as there were no more offices to administer.
"It sucked," he admitted. But in the same breath, the artist explained that he had pivoted to focus only on an art form he believed in.
He picked up a necklace made up of two strands with a number of wooden beads and metal pieces worked throughout – titled "Be in Two Minds".
"The reasoning behind 'Be in Two Minds' is that they're looking at two different perspectives," he explained, pointing to the two different strands. "All my designs are idioms because they have hidden meaning in the names."
With no fairs and festivals due to restrictions on the size of gatherings, Mirabilio shifted to trade shows.
"I find myself more invigorated than ever in my craft practice," he wrote for the Craft Council. "I've built my brand around the notion that handmade objects can affirm who we are as people, and getting to this place is a journey I hope to share with others."
He landed in 2020 with Coterie – a community-driven platform that connects fashion brands and buyers in a centralized event virtually and in person.
He is now planning the Coterie 2021 show and wants to chat with stores and vendors who might be interested in selling his jewelry.
When not at his workbench, Mirabilio rides the trails on his mountain bike and works towards obtaining his yoga certification.
"There is a lot of power in nature," he said. "There is an enormous amount of strength that can be derived from just being in nature.
Mirabilio's most recent projects can be found on his website as well as on Instagram at www.instagram.com/mirabilio.
Editor Taylor Ann Bradford can be reached at 978-675-2705 or [email protected]